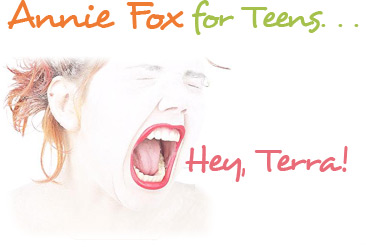 Annie (AKA Hey Terra!) has been around long enough to have experienced a lot of what Life can dish out. But, it hasn't been so long that she's forgotten what it's like to be your age. Check out some of the thousands of email questions teens from around the world have sent to Terra. You may learn something useful from her answers:
Competition:
"Is there any way that I can snag my crush?"
Hey Terra,
I liked this guy last year, you could even call me obsessed. But I wasn't the only one, I was in "competition" with five other girls!!!! Thanks to my friends, the ENTIRE grade knew, even the guy himself.
The summer passed, I met new people, so when September rolled around and it was the first time I saw him in like three months. I didn't feel that love "sensation" (heart racing, faster pulse, irregular breathing), so it's clear to say I got over him. The guy knew it too. I didn't hurry to my next class to see him in the halls. I didn't stare endlessly at him in band and at lunch. You see, his dad is super rich and they live in a huge mansion, so the guy never lived humble. To add on, his mom had breast cancer, but she got chemotherapy so she's fine. Now, she has this brain tumor and is paralyzed from the waist down. Also, all six of us girls got over the guy, but the guy couldn't accept it.
Unfortunately, I fell for his best friend and I still do. The problem is, my new infatuation may or may not like me back, and he likes this one blonde cheerleader, and this other cheerleader who has big breasts. This has been going on for six months!!!!! I'm completely annoyed and overwhelmed that this hasn't resolved itself within six months!
Is there any way that I can snag my crush, and make my former infatuation jealous? Also, should I give my former infatuation moral support about his mom? If so, what do I say? Please help!!!
Confused, Overwhelmed, and Annoyed
Dear Confused, Overwhelmed, and Annoyed,
You can't "snag" your crush unless he wants to be snagged. Sounds like he's got his attention on cheerleaders, so my advice is to let it go and move on.
Even if you could divert his attention, I'm a little concerned about the fact that you would even consider getting involved with someone just to "make your former infatuation jealous." What's with that? Are you into playing around with people's feelings just for some sort of ego gratification? I hope not! And I don't believe it's true since you say you want to give "moral support" to your "former infatuation" to help him through what has to be a terrible family crisis.
My suggestion is that you forget about the "current crush" and be as good a friend as you know how to be to the other guy. By that I mean, let him know that you know about his mom and if he needs someone to talk to, you will be there to listen because you care.
I hope this clears things up for you.
In friendship,

Terra

Need some advice? Write to Terra. She'll give you a straight answer you can trust without any lectures.