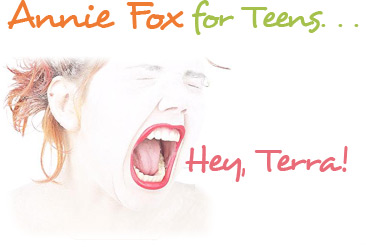 Annie (AKA Hey Terra!) has been around long enough to have experienced a lot of what Life can dish out. But, it hasn't been so long that she's forgotten what it's like to be your age. Check out some of the thousands of email questions teens from around the world have sent to Terra. You may learn something useful from her answers:
Competition:
"My friend is a much better dancer than me."
Hey Terra,
I really want to compete with my jazz dance, but my teacher said that my group can't. I know that we're a team, and I'm not the best dancer in the world. Then why is it that I feel like I'm stabbing my friend in the heart every time I make a mistake? How can I convince my teacher to say yes, and take this guilt off my back?
Born 2 Compete
Dear Born 2 Compete,
I'm not quite clear about what the problem is here. You love to dance and you're doing your best, but sometimes you make mistakes (like everyone who is human). If you are putting in the time to rehearse and really trying your hardest, that is all anyone can ask of you and all you can, reasonably, expect of yourself. Dance routines are difficult to learn. If the feeling of "stabbing your friend in the heart every time you make a mistake" is caused by your own embarrassment, irritation, and frustration... that's one thing. And you CAN choose to do something about that feeling. (For example, you could work with your friend until you 'get it', or you could suggest re-choreographing the part that is giving you problems, or you could decide that you would rather not dance during the competition if you feel you are messing up and ruining the chances of the other people on your team... There are always options.)
If your friend is feeling angry when you mess up, then she owes it to you to talk about it. If the two of you open up to each other around the feelings you have about dancing together in this competition, you might discover that the friendship is more valuable than any contest.
Talk about it and see what you can discover. What's really the thing that matters most here?
In friendship,

Terra

Need some advice? Write to Terra. She'll give you a straight answer you can trust without any lectures.