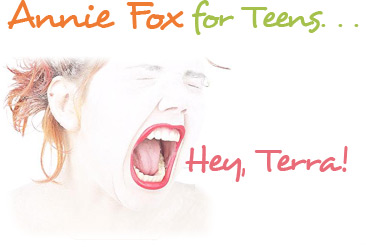 Hi there… How's it going? Probably not all that great or you wouldn't be here looking for help. No worries. Teens have been emailing me since 1997 because I give good advice. If you've got a problem with friends, so-called friends, a bf/gf, a parent, or anything else… email me. I can help you sort out your feelings. No matter what's going on, you always have choices. And choices matter because sometimes the stuff we do to "fix" a problem only makes things worse. You don't want to go there. Instead, let me help you figure out your next best move

In friendship,
Terra (aka Annie Fox)
"They said I was gay."

"I might be pregnant!"

Hey Terra,

You might not remember me, but you once gave a workshop at my school and I was wondering if you could help me. All the girls at my school can be real jerks. They tease me and call me names. Once two girls and one guy really crossed the line and said I was gay, which most people know is not true. How can I ever get to know any of the girls I sorta like if the others girls tease me and spread lies?

Desperate

Hey Terra,

Well I was kind of wondering if I'm pregnant because me and my boyfriend had sex on Thursday and without a condom. I'm really scared because my boyfriend is kind of controlling. When I told him that I might be pregnant he told me to get an abortion or he is going to leave me. PLEASE HELP!

Help

Read Terra's Answer »
Read Terra's Answer »
December 22, 2014
Just started blogging for
Huffington Post
. Long time goal on my bucket list... check! I haven't been at it for long, so you haven't missed much. If you'd like to catch up, here's where you can subscribe to my
RSS feed
and/or read the three articles I've posted so far.
Since I'm starting this gig during the holiday season, I'm seasoning my posts with holiday spirit. Like this one, from today: This Holiday Season Have Compassion for Relatives Who Drive You Nuts.
It's a little funny and a little serious. Bottom line, we've all got folks in our extended family who can push our buttons like all get-out. (Not sure where that expression comes from but I've always liked the sound of it.) Don't know about you, but when I get my chain yanked I'm at least as unpleasant as the aforementioned button-pushers. No fun for me or anyone else. So in this post I give tips for turning irritation into compassion. Why? So you (and I) can spread a little love in Aunt Gertrude's direction while teaching our kids that there are times when we all need to put on our 'company manners' and be pleasant to everyone.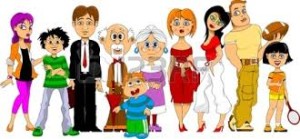 Time to get together with the family...
More »