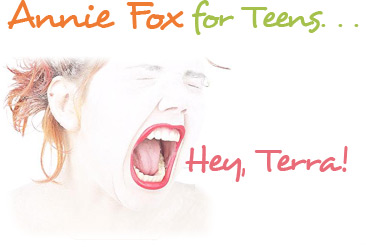 Hi there… How's it going? Probably not all that great or you wouldn't be here looking for help. No worries. Teens have been emailing me since 1997 because I give good advice. If you've got a problem with friends, so-called friends, a bf/gf, a parent, or anything else… email me. I can help you sort out your feelings. No matter what's going on, you always have choices. And choices matter because sometimes the stuff we do to "fix" a problem only makes things worse. You don't want to go there. Instead, let me help you figure out your next best move

In friendship,
Terra (aka Annie Fox)
December 8, 2014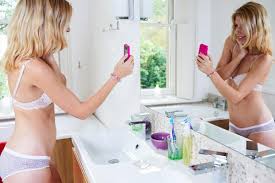 This feels weird, but as long as it makes him happy....
Smart girls and guys often make stupid choices. Smarter teens recognize when something feels off. They're the ones who stop beforehand to get a second opinion. Here's a recent email I received from a smarter girl:
Hey Terra,

My boyfriend and I have a long distance relationship and he really wants nude pictures of me. He doesn't pressure me about it, but I have a hard time explaining why I can't do it. I was raised with conservative values, though I have different views from my parents on lots of things. I've realized it's okay to break certain rules, but I can't even take the picture without feeling disappointed in myself or guilty. He understands my boundaries, but I still feel bad about it. I know plenty of other girls do it and I feel abnormal. Should I just send the pictures anyway, even if I'll feel down about myself but will make him happy??

–Feeling Abnormal
Dear Feeling Abnormal,
You already know the answer to this one, but it sounds like you need support. OK, here it is: NO. You should not "just sent the pictures anyway, even if (you) will feel down about (yourself) but make him happy." No way!
It's not your job to make your boyfriend happy. It is your job to live your life in a way that makes you proud of who you are. Sending nude pictures will not make you feel proud. More »

From Terra's Inbox
"He only likes me as a friend but he's obsessed with my friend!"

"I've kinda been stalking my ex."

Hey Terra,

I'm in 8th grade and I just broke up with my bf after a month. He was really nice, but he considered me only as a friend. I understand that I can't like him anymore, but now he wants to meet one of my friends because he's obsessed with her and I am really jealous. I don't really talk to him now because I was the one mainly making our relationships worthwhile. I'm so jealous now and I really want him back. What can I do? I've already told my friend how I felt, but what should/can I do to try and get him back?

Lost in Love

Hey Terra,

I've been sort of stalking this guy I used to go out with. (He has a new girlfriend now.) I'd like to apologize to him and his girlfriend, but how do I? I still have feelings for him. But I want to make it clear that I feel sorry for my attitude. Should I apologize to him and his girlfriend separately or to them both together? What words should I use? This is important.

Thank you,

Sorry

Read Terra's Answer »
Read Terra's Answer »