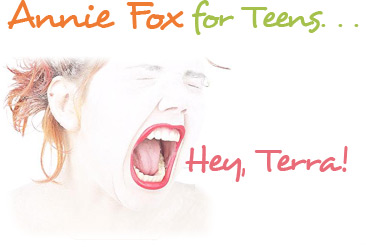 Hi there… How's it going? Probably not all that great or you wouldn't be here looking for help. No worries. Teens have been emailing me since 1997 because I give good advice. If you've got a problem with friends, so-called friends, a bf/gf, a parent, or anything else… email me. I can help you sort out your feelings. No matter what's going on, you always have choices. And choices matter because sometimes the stuff we do to "fix" a problem only makes things worse. You don't want to go there. Instead, let me help you figure out your next best move

In friendship,
Terra (aka Annie Fox)
"My mom likes my sister better than me."

"What does it mean when she flips her hair?"

Hey Terra,

It seems my mom likes my sister better than me. My older sister tells me to get out of her room, and my mom yells for me to, "Get out of her room!" Whenever I tell my mom something about what my sister did to me, she never does anything about it. She doesn't even yell at my sister. All she does is says, "Just stay out of her room." I can't even tell her that I hate myself, because she just yelled at me, and told me she's sick of me saying this. She says she'd wish that she can just go back to her home country instead of dealing with me. She talks softly to my sister whenever she has a...

Hey Terra,

I wanted to start a conversation with this girl I like so when I saw her yesterday I asked "Was that you with your bf at the mall last Sunday?" I just wanted to see her reaction and to see if she has a bf. She gives me a weird confused look and says "No" but never mentions anything about a bf. So we start chatting, and she smiles, laughs, body towards me but head facing the other way cause she was waiting for a ride. All of sudden she flips her hair.

As I am new to this dating game, Is that good or bad?

Jr. John

Read Terra's Answer »
Read Terra's Answer »
September 16, 2015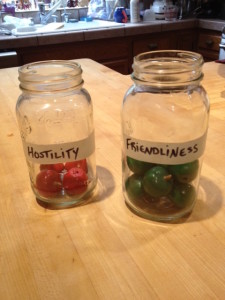 Which jar are you filling up today?
Imagine two empty glass jars. One labeled Friendliness. One labeled Hostility. Imagine each time you say something to someone (online or off) you must put a marble in one jar or the other. By the end of the day which jar has more marbles?
Getting along with each other has always been a major challenge on this planet. Each day, each of us can increase hostilities or increase feelings of friendship. It's really that simple.
Think about the two jars with this hypothetical situation:
A group of kids sit at a lunch table with one empty seat. A new kid comes over carrying a lunch tray and asks "Can I sit here?" For each choice, which jar gets a marble, Friendliness or Hostility?
Someone says "No way!" F or H
New Kid throws a french fry at someone. F or H
Someone lies and says, "Sorry, but I'm saving this seat for my friend." F or H
New Kid lies and says, "No problem." F or H
New Kid says, "I don't want to sit with you. You're mean." F or H
Someone says "Sure" and makes room. F or H
Someone frowns but doesn't move. F or H
Someone quickly puts her sweater on the empty seat. F or H
Someone says, "No weirdos at this table." F or H
Someone laughs. F or H
Someone feels bad, but says nothing. F or H
Someone says, "Don't be mean. Let her sit with us." F or H More »