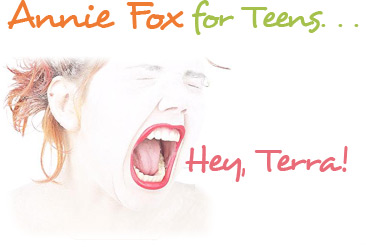 Hi there… How's it going? Probably not all that great or you wouldn't be here looking for help. No worries. Teens have been emailing me since 1997 because I give good advice. If you've got a problem with friends, so-called friends, a bf/gf, a parent, or anything else… email me. I can help you sort out your feelings. No matter what's going on, you always have choices. And choices matter because sometimes the stuff we do to "fix" a problem only makes things worse. You don't want to go there. Instead, let me help you figure out your next best move

In friendship,
Terra (aka Annie Fox)
September 9, 2014
This recent email has me vibrating with rage. I know. I know. I'm supposed to manage my destructive emotions. Take re-centering breaths and all that. But as a woman, a mom, and an educator, this one has me ready to strangle someone.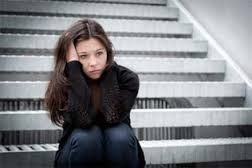 I'm not going back there.
Just read it and tell me what you think:
Hey Terra,

I just started freshman year and I have to take swim class. I have large breasts and the girls in the class make fun of me in the shower and in the pool. Today, while we were swimming, one girl went into my locker and stole my bra. I had to get dressed for my next class without a bra!! Do you have any idea how humiliated I felt walking around like that? Guys were staring at me and a few guys tried to touch my breasts! That's what I had to go through for two whole periods until my mom came and brought me a bra. This is the first year of high school and I'm a joke already. All my friends are at another school so I've got no one who has my back. – Who Cares?
Before you read my answer, here's my video response on Vidoyen:
How do we teach kids that cruel is not cool? posted by Annie Fox, M.Ed. on Vidoyen.
More »
From Terra's Inbox
"I just want to move on."

"Me and my bf are fighting about sex."

Hey Terra,

Me and this guy have known each other for years, months of him knowing that I like him more then a friend. I spilled my heart out to him and he didn't mop it up... gave me the whole I really care about you, BUUUUT....response. He says all he needs is his mom and sisters because he feels he needs to take care of them because of his fathers' negligence. I asked why he puts up a wall and won't let anybody in...even a girl who WANTS to take the time to get to know him better. He says he doesn't know why...

I feel exhausted and I did every possible thing to understand him and still no progress....

Hey Terra,

Me and my boyfriend fight kinda a lot. Today we had a fight and he said "I don't even think you like me." How can I prove to him that I do without having sex or doing something I don't want to do? I really like him a lot and don't want to lose him but I don't want to do anything I don't want to do. Please help fast!

Stressed Out

Read Terra's Answer »
Read Terra's Answer »