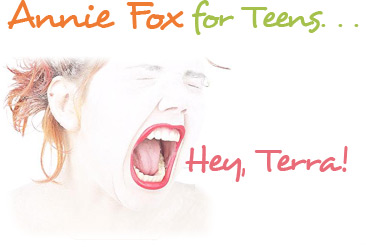 Hi there… How's it going? Probably not all that great or you wouldn't be here looking for help. No worries. Teens have been emailing me since 1997 because I give good advice. If you've got a problem with friends, so-called friends, a bf/gf, a parent, or anything else… email me. I can help you sort out your feelings. No matter what's going on, you always have choices. And choices matter because sometimes the stuff we do to "fix" a problem only makes things worse. You don't want to go there. Instead, let me help you figure out your next best move

In friendship,
Terra (aka Annie Fox)
December 20, 2014
T'is the season for parties. When it's a family affair, all the kids are included. But as you get older, you may want to organize your own get-togethers, and that means only "special friends" get invited. If you've been left off a party invitation list you might have felt left-out. But what if you were invited to a party and one of your besties wasn't? Awkward situation!
This question comes from a girl who found herself in that situation. Her question and my answer are included in my latest book, The Girls' Q&A Book on Friendship: 50 Ways to Fix a Friendship Without the DRAMA. Read on...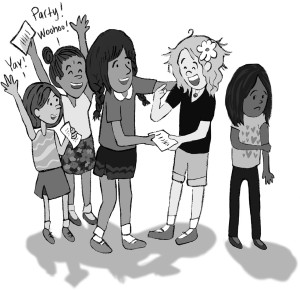 "I got invited, but my friend didn't! Awkward!"
Q: "Friend A invited everyone to her party except Friend B. Now Friend B is mad at me for wanting to go. But I need to go so I can be popular. Is it worth it?"
Answer: If understand that you want to go to the party, but if everyone was invited except Friend B, you can understand why she is upset. Maybe you can also understand why she is angry that you want to go without her.
When you say, "I need to go to the party so I can be popular," I wonder if the Popularity Game means more to you than Friend B. People who ditch friends to be with more "popular" people often find themselves without any real friends. More »

From Terra's Inbox
"My friend's mom is mean to her."

"'I'm freaking out that I might be gay!"

Hey Terra,

My friend doesn't get to do many things and her mom gives her lots of lectures. Whenever I go to her house she never has time to play with me because she's taking care of the dog. Once in front of my 2 eyes, my friend was trying to tame the dog and her mom yelled "You're doing it wrong!" And other mean things too.

I think the mother should be nicer to her and my friend should tell her, but she's too scared. I've also noticed that my friend is getting meaner, she says she can't stand it. I want to help her. What should I do?

Lacey Place

Hey Terra,

This morning something weird happened. I was kinda still sleeping when my mom came to wake me up and I said "I'm not allowed in the House of Congress until 1883 because they banned homosexuals."

Now I don't think I'm gay, I like girls. I've never had sex but I've had crushes and a desire to do stuff. When I masturbate I think about girls. But what I said when I was waking up is freaking me out. What does this mean?

Not Gay

Read Terra's Answer »
Read Terra's Answer »