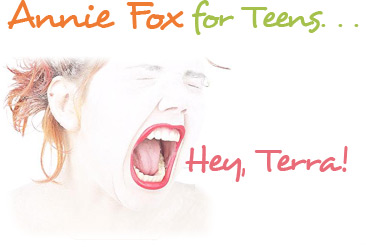 Hi there… How's it going? Probably not all that great or you wouldn't be here looking for help. No worries. Teens have been emailing me since 1997 because I give good advice. If you've got a problem with friends, so-called friends, a bf/gf, a parent, or anything else… email me. I can help you sort out your feelings. No matter what's going on, you always have choices. And choices matter because sometimes the stuff we do to "fix" a problem only makes things worse. You don't want to go there. Instead, let me help you figure out your next best move

In friendship,
Terra (aka Annie Fox)
August 19, 2014
After more than a year's collaboration, our work on
The Girls' Friendship Q&A Book
is wrapping up. Illustrated by the ridiculously talented
Erica DeChavez
, my book for 8-12 year old girls, is coming next month from
Electric Eggplant.
I'm super excited when I think about all the girls this book is going to help. Let's face it, a new school year always brings friendship issues (aka social garbage.) The Girls' Friendship Q&A Book is a cure for mean-girl behavior. (You've had enough of that, right?) With 50 questions from real girls (and answers that really solve the problem), plus tons of quizzes and awesome advice from older teens about how to be a Super-Friend, this book will teach you a whole lot about empathy and social courage. Something we can all use more of.
Sneak Peek from The Girls' Friendship Q&A Book> Here's one of the book's fifty questions and answers: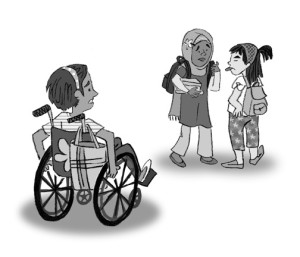 "She needs a friend, but I don't think I'm brave enough."
A new girl from another country gets teased because she doesn't speak English. I want to be nice to her, but I'm afraid people will tease me. Should I be her friend?

More »

From Terra's Inbox
"Why did my grandma have to die?"

"Should I tell me friends I'm bi?"

Hey Terra,

About a year ago me and my family went on vacation and me and my grandma got sick. I got better but my grandma didn't. So my mom made her an appointment to see her doctor. Her doctor told my mom "This is no cold. You need to take her to the emergency room right away." They told her that she had pancreatic cancer and that she needed surgery. After they removed part of the pancreas they told us she would be ok. One year later she's about to die so can you help me understand why she has to go?

Joe

Hey Terra,

I wanted your advice on something, I'm 15 yr. old, who's bi and I wanted to know if I should tell my friends that I am or should I not tell them, 'cause there is someone who knows and I don't know if he is telling them that I am, and he promised me he wouldn't, but now I don't want to tell my girl friends that I am. What should I do?

Wanting Advice

Read Terra's Answer »
Read Terra's Answer »