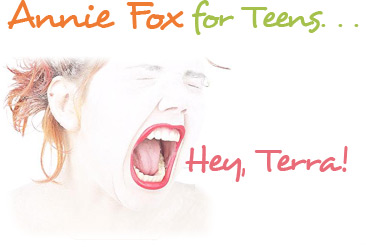 Hi there… How's it going? Probably not all that great or you wouldn't be here looking for help. No worries. Teens have been emailing me since 1997 because I give good advice. If you've got a problem with friends, so-called friends, a bf/gf, a parent, or anything else… email me. I can help you sort out your feelings. No matter what's going on, you always have choices. And choices matter because sometimes the stuff we do to "fix" a problem only makes things worse. You don't want to go there. Instead, let me help you figure out your next best move

In friendship,
Terra (aka Annie Fox)
"I don't know why they hate me."

"My mother picks on me for every little thing."

Hey Terra,

There's this girl and she hates me. She tries to make me miserable and it works! She calls me fat and ugly and everything and I don't know how to deal with it. She has everyone hating me. Nobody will have anything to do with me. They came to my house and waited until I got home and my mom threatened them. Now they are being so mean I don't know how to do anything anymore I'm so upset and confused. I don't no why they hate me. All I do is cry and I don't know how to make it stop. I'm so hurt and so confused I don't no how to explain it. It's the worst feeling. Loneliness all the time. No...

Hey Terra,

The problem is with my mother. You see we never really had a good relationship ever since sixth grade. Seriously there is not one day that goes by that we don't fight, and sometimes I don't even know why we fight. She always picks on me for every little thing. It's not like I am a bad kid I do all right in school, I don't do drugs or drink, and I never gave her any reason not to trust me. Seriously it just sucks!

I know that we have to have better communication and not yell but I tried that with her, it's impossible! She never wants to listen to me. She believes that her parents never let...

Read Terra's Answer »
Read Terra's Answer »
February 8, 2015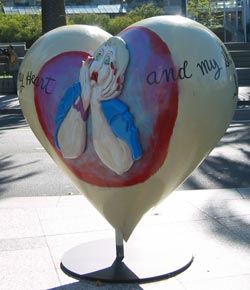 Unchain my heart to love myself more
We are so loving this current downpour in parched Marin. Feel like sending the rain gods a Valentine.
The big count down to V-Day has begun. Most of us have been brought up on the notion that Valentine's Day is for lovers. And, yeah, it is. But here's the thing, if you don't love yourself, it's gonna be hard to really love someone else. Also, if you don't love yourself, you're going to have trouble recognizing love coming at you... and an even tougher time accepting and savoring it.
That's why I'm writing about self-love today. Specifically, how hard it can be for tweens and teens to get excited about being who they are when so many of their peers, family members and The Media conspire to convince them they aren't "__________ enough." (Not thin enough, smart enough, cool enough, hot enough... not GOOD enough!) That's such monumental BS and yet, most middle and high school students buy it and dig right in with fork and spoon. Hell, most adults believe they're not good enough. Good enough for what?! That's what I'd like to know.
I got an email from a teen who was super upset because she isn't "tall enough". Read on...
I'm a 16 years old girl and only 5'1" tall. People always make fun of me specially guys. I sometimes cry. Before, I was really confident and I didn't mind being short, but now it really hurts me. My mother refused to take me to a doctor so he would give me some type of medicine to help with my shortness, although she knows how much I hate my height! More »