Synopsis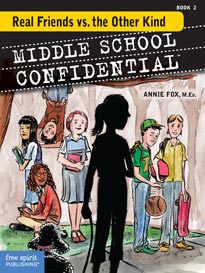 Jack, Jen, Chris, Abby, Mateo, and Michelle are back. But their tight circle of friends looks like it's breaking apart. What's going on? The very popular Monique might be using one of the girls to get to one of the guys, and never noticing that one of the other guys is in love with her! Now everyone is either feeling mad, hurt, jealous, or pulled in two directions at once. Yeah, it's complicated! Friendships often are.
Continuing where Book 1: Be Confident in Who You Are left off, Book 2: Real Friends vs. The Other Kind blends the same award-winning full color graphic novel format with smart-talk life-skills.
There's a lot packed into this colorful title that falls somewhere between self-help and peer advice...
—School Library Journal
Sure to hook even the most reluctant readers, Annie Fox's ground-breaking new
Middle School Confidential
series for 11-14 year olds provides the answers young teens need to big questions about self-confidence, friendships and family.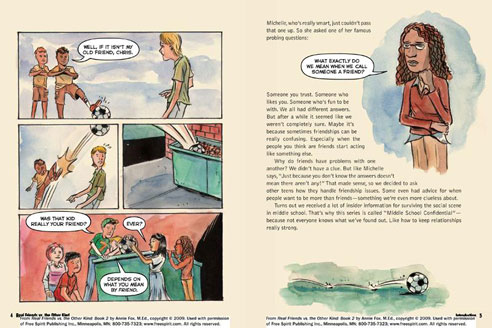 Illustrated, softcover, full color, 6" x 8", ages 11-14, ISBN 1-57542-319-7, ISBN 13 978-1-57542-319-7