Synopsis
Meet Jack, Jen, Chris, Abby, Mateo, and Michelle—7th graders who are just trying to figure out what the heck middle school is all about. But standing in their way are some serious challenges—bullies putting them down, blowups that threaten friendships, and real doubts about whether they measure up in looks, popularity, smarts, or athletic ability.
An engaging blend of fiction and smart-talk practical advice, Annie Fox's ground-breaking new Middle School Confidential series for 11-14 year olds provides the answers young teens need in a contemporary, full-color graphic-novel format that will draw in even reluctant readers.
...Chock-full of helpful hints...lists resources to help readers increase their self-esteem. The graphic-novel-like design will make this self-help tool stand out and appeal to fans of that format.
—School Library Journal
Girls and guys are sure to get hooked into the lives of the characters, not even realizing they're learning solutions to challenges in their own lives. Books in the series feature comic-strip narratives, quizzes, quotes from real teens, tips, tools, and resources.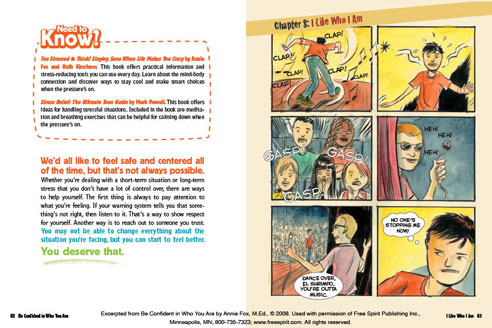 96 pages, illustrated, softcover, full color, 6" x 8", ages 11-14, ISBN 1-57542-302-2, ISBN 13 978-1-57542-302-9. Press Release from Free Spirit Publishing.