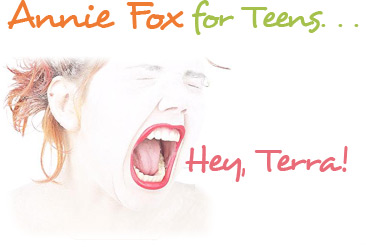 Hi there… How's it going? Probably not all that great or you wouldn't be here looking for help. No worries. Teens have been emailing me since 1997 because I give good advice. If you've got a problem with friends, so-called friends, a bf/gf, a parent, or anything else… email me. I can help you sort out your feelings. No matter what's going on, you always have choices. And choices matter because sometimes the stuff we do to "fix" a problem only makes things worse. You don't want to go there. Instead, let me help you figure out your next best move

In friendship,
Terra (aka Annie Fox)
"I want to leave the mean girls but part of me doesn't."

"I'm afraid of the way my parents will act toward my boyfriend."

Hey Terra,

I want to make the change from being in the popular mean girl group to the nice people. The nice people have accepted me but I've seen a few friends from the popular group and I realize it's going to be hard to tell them I want to leave! I have best friends in the non-populars, but I'm starting to freak out because what if when I get back to school I'll see them and be like "I should be with them!" Today at orientation two of the girls were in the corners gossiping and half of me wanted to join them but I pulled away! What should I do??

Nice Bitch

Hey Terra,

I am 17 going to be 18 on Friday. I have been dating a guy who is 24 behind my parents backs. And since I am going to be 18 I wanted him to come over on my birthday. But I am afraid of the way that my parents might act. I am more afraid of my step dad then my mom because he is more protective of me with guys then my mom is. Can you please help me and tell me what I should do in this case?

Almost 18

Read Terra's Answer »
Read Terra's Answer »
June 25, 2015
We're up to
Part 4
of this (mostly) parenting Q&A series. I'll occasionally throw in a teen question because, hey, it's always enlightening to hear kids talk about what
we
do that drives them nuts. Today's question concerns the confusion of a parent whose daughter is having an emotionally difficult time (again) with a best friend.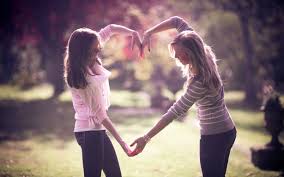 Best friends forever, right?
Today's Question: Why are girls' friendships so dramatic? My daughter had a best friend from 2-5th grade. When that girl moved away, my daughter was distraught. Now she's in 7th, with a new best friend who may be losing interest. My daughter is getting very worried and upset. What can I do to help her put this in perspective?
Since 1997, the #1 issue girls write to me about is betrayal or rejection by a friend. Specifically, "My bff has a new bff! What do I do?" The email writer goes on to describe how she's crying herself to sleep, has lost her appetite and doesn't want to go to school or anywhere! Parents are often confounded by the intensity of their daughter's emotions in these situations. Moms and Dads want to know what they can do to help.
Here's the way I see it: A girl's dramatic response to a friendship that's cooling off resembles how one might react to a romantic break-up. Some girls even refer to losing a friend as getting "dumped." Girls' attachment to other girls is a precursor to their search for the The One, aka the Soul Mate, if you believe in that kind of stuff. More »