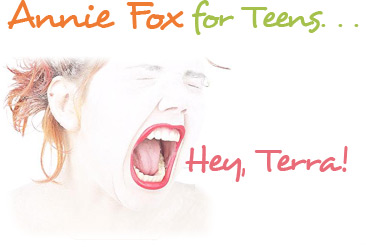 Hi there… How's it going? Probably not all that great or you wouldn't be here looking for help. No worries. Teens have been emailing me since 1997 because I give good advice. If you've got a problem with friends, so-called friends, a bf/gf, a parent, or anything else… email me. I can help you sort out your feelings. No matter what's going on, you always have choices. And choices matter because sometimes the stuff we do to "fix" a problem only makes things worse. You don't want to go there. Instead, let me help you figure out your next best move

In friendship,
Terra (aka Annie Fox)
"Because of my ex I don't trust guys."

"There's this girl I like..."

Hey Terra,

Love has become an enemy of mine. I fell in love with a boy senior year of high school. We got along and it seemed like everything was ok but throughout high school I would find out about girls here and there that he "hung" out with and some that he even kissed and hooked up with. Never from his mouth did I hear these things but I continued to forgive and date him because I loved him.

We dated for the rest of high school and our first year of college. We attended different colleges miles apart and our relationship was rocky. I never knew what he was doing miles apart or who he was with, it...

Hey Terra,

I'm in class with this girl I like. I have briefly talked to her, but I want to talk to her socially. I have written poetry for her (she asked me to for the school paper). I sit behind her in my class (near me). I just want to start to get to know her better, but be subtle at the same time.

Help!

Back Seat Driver

Read Terra's Answer »
Read Terra's Answer »
November 13, 2017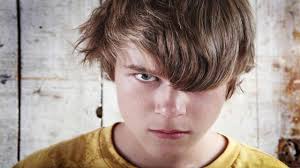 What are you looking at?
Our kids live in a faster, noisier, more stressed out world than the one we grew up in. That contributes to more people "losing it" more often. Not surprising kids may wonder if they'll grow up behaving as poorly as some of the adults they observe at home, at school, on TV. That was on the mind of this teen who recently reached out to me:
Teen: I get angry kind of easily and I'm afraid that I might abuse when I get older. Please help.
Annie: What makes you angry? Just certain things? Or everything and everybody?
Teen: Sometimes I just get angry because someone is bothering me and I ask them to stop and they don't stop so I get really angry. I get angry over little things sometimes, too.
Annie: Humans have lots of emotions. Sometimes we get angry over little things and bigger things. Frustration, annoyance, irritation… those are parts of anger. Emotions are just emotions. They come and go, right? We don't always get to choose how we feel about someone or the situation we find ourselves in. You feel whatever you feel in the moment. But here's the thing, your emotions can't hurt other people, but your behavior can. Sounds like you're worried you will have trouble controlling your behavior in the future. Is that it?
Teen: Yes. I worry about that. A lot.
Annie: The future doesn't exist. There is only now. This moment. But the choices you make, the way you act in this moment and the next one can lead to the kind of person you will become in the future. More »