The Teen Survival Guide
to Dating & Relating
Real-World Advice on Guys, Girls,
Growing Up, and Getting Along
(*Previously published under the title Can You Relate?)
Reviews
Reviews from Parents of Teens: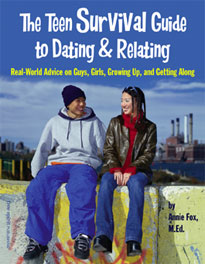 "I love the mix of general advice and real-life questions and answers. Plus, it gives the reader concrete suggestions on how to tackle a problem."
"The book is thoughtful and oozes with common sense. The advice seems borne of both compassion and a track record of good parenting which persuades you that teenagers reading it will be in good hands. Also it makes difficult situations seem manageable and speaks directly to teens in a respectful, positive, non- patronizing manner. It's even got great universal wisdom parents can find useful in their own lives! I will recommend it to my teen and my preteen when she's old enough for the book."
"The book had a lot of helpful ideas to assist parents with problems teens have or will possibly face. It gave positive feedback to the teens in a way that teens would take as non-threatening (meaning it didn't sound like an adult giving a lecture on how to handle problems)."
"I liked the fact that the book displayed a wide variety of problems/questions that teens come across—things that I would not necessarily think would be a problem but to a teen it is real. This was a great reminder to me to keep remembering this when my own children come to me with their issues."
Reviews from the Media:
"Not only is this book a great guide to relationships for tweens and teens, it's a good tool for parents, as well. By reading the chapters, parents are able to grasp reality as it is seen from their kids' point of view. The emails and stories provide a great opportunity to open conversations about these issues with our children.
"I recommend this book as a read for tweens, teens and their parents as well. But don't look for my copy in this month's Root & Sprout Giveaways. It is currently being read by my fourteen-year-old brother and then will be passed along to my mom to read as well." More »
—Nova Ordner, Root & Sprout
"Frank and upbeat... will appeal to teens eager for help with relationships."
"[The author's] amiable, informal responses to concerns and problems ecourage positive, yet realiastic thinking... An appealing, high-interest title."
"Intriguing letters... solid responses... provides practical, down-to-earth advice. 'In Friendship, Terra' closes every letter setting the tone for the book... This title will be useful for junior and senior high school students seeking advice... adults who want to understand issues that teens face and gain insight into how naive they might be about handling certain situations should read this book."
—VOYA
"Her model of open discussion will resonate with a great many teens. With a narrative voice that's equal parts warmth, gravity, and pep, Fox tells teens how they can create healthy relationships with peers, family, 'BFs and GFs' (boyfriends and girlfriends)."
"Offers a step-by-step plan to navigating emotional minefields."
"Some of the questions are funny, some are heartbreaking. All are treated seriously. Terra's combination of common sense, professional training, and empathy can't be beat."
—St. Charles County Kids, Suburban Journals of St. Louis
"What a great book! Of course I can relate, even though I am in my fifties. =) The way [Annie] has organized and presented her material makes that possible. So does her accessible, friendly, respectful style.
"[Annie's] gentle wisdom, concern for each individual, and sensible action steps make this a must-read for teens and the people that work with them. She shares solid advice on a vast array of problems. I will be proud to give this to the teacher in the Assessment Center at Juvenile Hall, knowing she will share excerpts with her students and let them read the book during silent reading periods."
—B. Lynn Goodwin, WriterAdvice (formerly Haven's List) Managing Editor
"This kid's guide will help teens learn to have healthier, happier relationships with all the people in their lives—including with themselves."
—Youth Light
"This book is for teens. The format is questions from real kids with answers from other teenagers. A good choice if your son or daughter has difficulty talking about their feelings and concerns. The writing is appropriate for teen readers. There is much in these pages to help teens feel like their concerns are normal, and that they are not alone."
"Maybe teens need their own advice columnist syndicated in newspapers nationwide. Annie/Terra would be a natural. She doesn't just leave teens with advice (on everything from 'Sex, Unhealthy Romantic Relationships, & Good-byes' to 'Getting Along with Parents'). She tells questioners 'Where to Turn' for help or further investigation."
"...a frank, positive and realistic guide to getting along and building good relationships."
"Filled with frank, yet positive advice... [The author] discusses the physical and emotional aspects of these issues and talks straight without preaching, with a good common-sense approach to teen questions."
—Valleykids Parent News (Chicago)
"...Annie Fox offers practical, candid, 'real-world' advice for teens... Can You Relate? is a reader-friendly 'insider's guide' written to help teens through the tumultuous and confusing years of adolescents — and has a great deal of value for parents and caring adults as well!"
—The Children's Bookwatch
an Official Newsletter of The Midwest Book Review
The Teen Survival Guide is now out of print. We are making the entire book available as a Free downloadable PDF.
Just click the green button below.