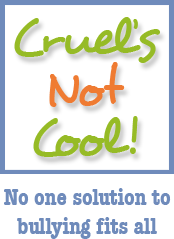 Why are kids mean to each other? Usually they're trying to get back at someone who hurt them. Or they're trying to embarrass someone they don't like even if that person hasn't done anything.
Maybe bullies think that targeting others can save you from being targeted. Or that being first in line to start a rumor, make a rude comment, or threaten someone makes you cooler.
Anyone who believes that is wrong.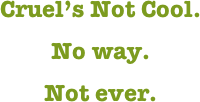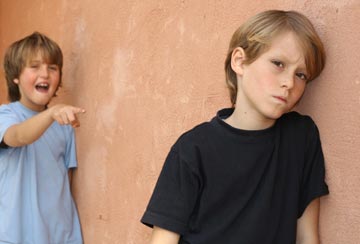 Cruel's Not Cool! an anti-bullying campaign to engage students, teachers, administrators and parents in a community-wide exploration of our culture of cruelty, why cruel's not cool, and what each of us can do, moment-by-moment to take back our schools by making them safer, more accepting places for all students all the time.
From Terra's Inbox: Q&A About Bullying
From a Teen:

"They keep teasing me."

Hey Terra,

I accidentally farted in class about a year ago and still no one can let it go. They still tease me about it. What should I do to make them stop?

Enough Already

From a Parent:

"Mean girls are preying on my daughter."

Dear Annie,

My 9 year-old daughter is the odd-one-out in her class. This "mean girl" has been saying hurtful mean things to my daughter and has shunned her on many occasions. The other girls in the class are beginning to do the same thing. I'm concerned about my daughter. Should I contact the school and can you suggest any reading materials to help both myself and the school in this matter? Thank you in advance for any help you can give.

I would love to come to one of your Friendship Workshops, unfortunately we are on the opposite side of the country.

Mama Lion

Read Terra's Answer »
Read Annie's Answer »
Additional Resources:
Contact Annie Fox for information on her Cruel's Not Cool! Workshops:
If you're a teen and you need some help, click here.
If you're a parent and you need some help, click here.